We are pleased to announce the winner of the SAMS Grigor McClelland Doctoral Dissertation Award 2017:
Julia DiBenigno (Yale University, USA) for her dissertation 'Warriors versus Experts: Managing Conflict between Professional Groups for US Army Mental Healthcare'.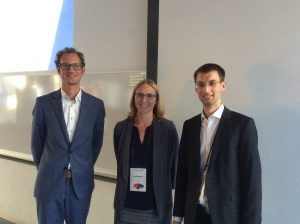 Photo: Finalists Jeroen Wolbers, Julia DiBenigno, and Christian Hampel at EGOS 2017
We would also like to recognise the two other finalists:
Christian Hampel (University of Oxford, UK) for his dissertation 'When Crisis Hits: How Organizations Manage Their Reputations, Fight Stigmatization and Regain Legitimacy'
Jeroen Wolbers (Vrije Universiteit Amsterdam, The Netherlands) for his dissertation 'Cross-boundary Coordination Processes in Emergency Management'


You can find further details about the award and a list of all of the previous winners and finalists here: http://www.socadms.org.uk/the-grigor-mcclelland-doctoral-dissertation-award/.
The call for applications for the 2018 award will open later this year.